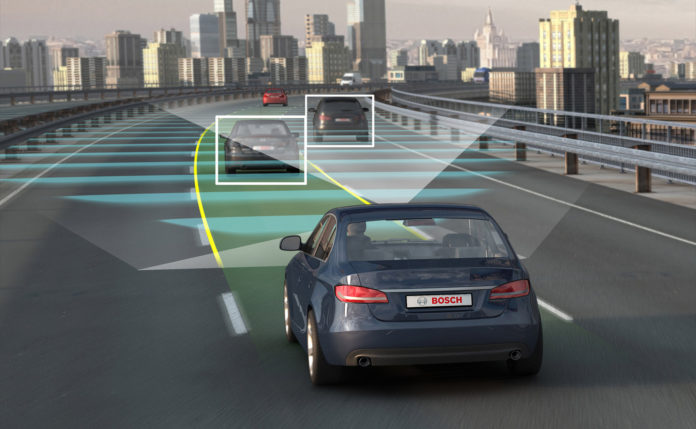 The road ahead: beyond self-driving
Autonomous vehicles will trigger new services and changes that transform the way we work, travel and live
Many autonomous vehicle discussions don't go far enough in describing the impact on behavior over time. We are concerned mostly with "hands on" or "hands off" the steering wheel, but at some point, confidence will grow and we won't have to pay attention to the road or other cars at all as we ride. Then we can begin to consider how other areas of life, work and travel can be supported by these evolving vehicles.
For example, when all riders are focused inward and the driving is handled by a sensor network, indicators like road signs, brake lights and lane separators become unnecessary. If there are no drivers, we won't have a need for these visual guides.
By dividing the roll-out of autonomous vehicles into stages, breaking down the component parts and connecting to other trends, we can reveal the most likely areas of impact.
The Launch with Trucks, Rides and Safety
Examples of self-driving trucks are already appearing — a primary suggested benefit is that autonomous trucks will make roads safer. Rides for the elderly and others who are unable to drive is another clear early benefit of driverless vehicles.
Possible outcomes:
Rides for kids going to after-school activities with in-vehicle monitoring for parents — an autonomous ride becomes preferable to a stranger in the driver's seat
Rides for homebound elderly and vision-impaired people with in-vehicle monitoring and voice services — Amazon Alexa is already joining this part of the trend.
In-vehicle 'Meals on the Way' services for riders become extensions of food service and delivery — this also prompts in-vehicle packaging and storage innovation for 'on the way' services
Seat-surround airbag systems protect passengers independent of orientation
Highways institute dedicated night-time hours and lanes for self-driving trucks
Continuous shipping, battery-swapping stations and mobile-charging vehicles keep autonomous trucks on the road at all times
New autonomous and manual vehicles transmit location automatically to provide system awareness to all cars on the road — this improves the flow of traffic overall, but presents some inherent security concerns
Improved solar panel efficiency enables roof charging for trucks and cars — this extends travel time and reduces the need for charging stations
The Evolution of Work and Roads
As riding becomes the preferred way to travel, larger 'travel pods' become a natural extension of the growing shared-workspace trend. All visual indicators can be removed from the road and new elements move inside the vehicle when the act of driving is handled by sensors.
Possible Outcomes:
Self-driving working pods for small-team domestic travel — this can reduce travel costs and increase continuity of work
Mobile workspaces connect with shared workspaces
"Sleep cars" become the new, less expensive way to travel short distances, reducing short-range air and train trips
In-car video calling is standard for new self-driving vehicles
Interior brand elements and lighting become more important than exterior as visitors and viewers are focused inward
With awareness of approaching vehicles and traffic, intersection traffic lights become less necessary
Night sensor driving reduces the need for streetlights on highways
Road signs and lanes disappear with roadway intelligence built into vehicles
Highway lanes expand and contract automatically for high-traffic times
Autonomous-only highways allow for much higher rates of speed
Mobile and Wifi networks installed in vehicles allow for dynamic moving networks
The Shifting of Ownership, Homes and Recreation
As people focus more on rides and less on cars, this will start to shift how we design and use areas of our homes and could start a shift toward 'manual driving' as a recreational activity.
Possible outcomes:
Garages are hired out as self-driving car charging and storage stations
Personal car insurance becomes less common — insurance handled by driving services
Recreational driving services appear for manual driving — fewer car dealerships
Specialized recreation areas appear for manual driving
Street pick-up area indentations at the curb in front of homes become the new driveway — driveways and garages are no longer standard in home construction
Self-driving tiny homes merge two growing trends
The Merging of transportation
As these vehicles begin to look less like cars and more like transport pods, they can easily be seen as modular plug-in points for other modes of travel.
Possible outcomes:
Modular self-driving pods appear, which can drop into Hyperloop tubes for traveling longer distances
Modular vehicles appear, which can 'dock' into homes, making travel easier
Aircraft with docking bays for the seating pods from mobile driving units become available, increasing efficiency of ticketing, boarding and air travel
Autonomous cars are not the only area that can be broken down into component parts and sequenced over time and trends. This kind of service and product decomposition can be a good way to look at strategic areas of focus in general, and this technique can reveal many unexpected new products and services for companies to explore in any industry.