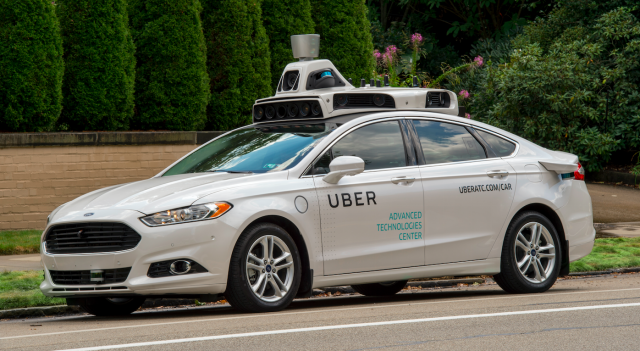 (Go to the Business Insider story, at the link above, for interesting Tweets)
A trade theft trial between Uber and Alphabet's autonomous vehicle unit Waymo has been delayed after a hearing in San Francisco on Tuesday.

Waymo requested the delay on Monday so it could look into whether or not Uber had withheld evidence in the case.
Uber had a unit dedicated to stealing trade secrets, according to ex-staffer Richard Jacobs, who testified in court Tuesday.
---
A former Uber employee's description of spying on rivals and destroying evidence caused chaos in the courtroom on Tuesday.
The trial between Uber and Waymo, which was scheduled to begin next week, has been delayed by order of the judge, who scolded Uber of withholding evidence, according to media reports.
The allegations of cloak-and-dagger tactics at Uber, the ride-hailing giant that has been accused of stealing trade secrets involving self-driving cars from Waymo, seemed straight out of a spy novel. And the events in court added more uncertainty into a high-profile lawsuit between two of the tech industry's most powerful players.
US Judge William Alsup delayed the upcoming trial, originally scheduled for December 4, saying it would be a "huge injustice" to force Waymo to go to trial given the new evidence that surfaced in the case, according Reuters and other accounts from the hearing.
Lawyers for Waymo read a letter apparently written by former Uber security staffer Richard Jacobs, which detailed an internal unit at the company focused on stealing trade secrets.
Jacobs also testified in person on Tuesday, where he said that the surveillance team at Uber used "anonymous servers" separate Uber's main servers, according to Bloomberg. He described it as a system that actively deletes messages after a small delay so as to leave no trace.
Waymo had requested the delay on Monday so it could look into whether or not Uber had withheld evidence in the case.
But even after Judge Alsup delayed the start of the trial, Tuesday's hearing continued for more than 2 hours, with a seemingly undending series of eyebrow-raising claims, and counterclaims.
The closely-watched case pits two of the tech industry's most powerful companies against each other at a time when each are racing to develop self-driving cars that could upend the automobile and transportation industries.
Waymo, the autonomous car subsidiary of Google parent company Alphabet, sued Uber in February, alleging that a former Waymo exec Anthony Levandowski shared confidential files with Uber. Levandowski left his role at Waymo in January 2016 to found another self-driving car company called Otto, which was acquired by Uber in August 2016.
Most of the allegations in the case date back to the period when Uber was led by CEO Travis Kalanick, the cofounder who was ousted earlier this year amid criticism that the company had fostered a toxic work culture and allowed sexual harassment to flourish. In August, former Expedia CEO Dara Khosrowshahi joined Uber as the new CEO promising to shed the company's "growth at all costs" mentality.