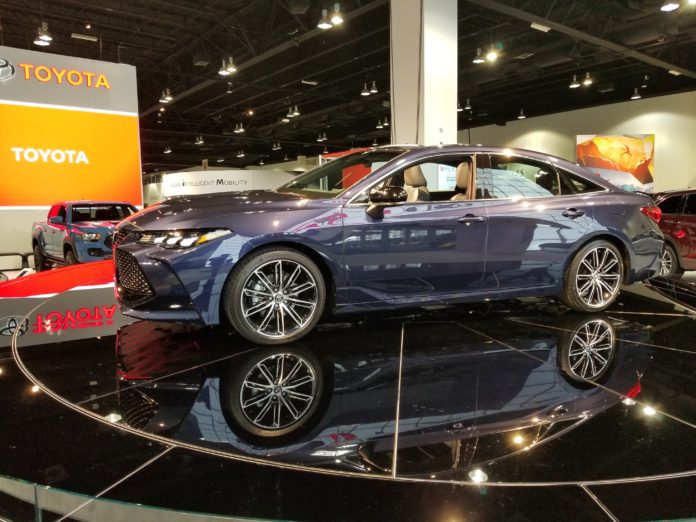 DENVER—Despite being known as a regional car show with few major announcements, the Denver Auto Show here featured safety and security technology in several national models.
Toyota featured its Toyota Safety Sense (TSS) bundle of active features on many of its newer models.  TSS, part of a larger ecosystem of Advanced Driver-Assistance Systems, or ADAS, are precursors to future autonomous vehicle rollouts.
Toyota is touting these safety systems on many of its new models at no additional cost.
In a prepared statement, Jim Lentz, Toyota North America CEO, said that the company pledged to have automatic emergency braking (AEB) in almost every vehicle by the end of 2017.  "Today, 92 percent of all Toyota and Lexus vehicles sold in the U.S. have Toyota Safety Sense or Lexus Safety System + with AEB standard, and other automakers' deployment of this life-saving technology is accelerating, three years ahead of the 2022 industry target," he said.
Some of these TSS features include: a pre-collision system that alerts drivers, and may apply brakes, if there is a potential frontal collision with another vehicle; lane departure alert, which is a windshield camera that helps to avoid unintended lane departure; automatic high beams, another windshield camera that aids in nighttime driving to detect the headlights of preceding vehicles, going from high- to low-beams as needed; dynamic radar cruise control, which uses a radar behind the Toyota badge in the hood area, plus a camera on the windshield to adjust speed to keep a safe distance from a car in front; and pre-collision system with pedestrian detection, which is another integrated camera and radar system designed to reduce collisions with pedestrians and other cars.
Toyota and Lexus also plan to rollout Dedicated Short-Range Communications (DSRC) systems on vehicles sold in the United States starting in 2021, the company said (see separate article in Driverless Report).  The goal is adoption of DSRC, which aims to have vehicles communicate with each other, across most of its lineup by the mid-2020s.
"By allowing vehicles' intelligent systems to collaborate more broadly and effectively through DSRC technology, we can help drivers realize a future with zero fatalities from crashes, better traffic flow and less congestion," Lentz said.
While not to be confused with larger shows in Detroit, New York and Los Angeles, the Denver Auto Show is the third oldest in the nation, according to the Colorado Auto Dealers Association. The show, held annually at the Colorado Convention Center, generates an estimated $60 million for the local economy, with more than 10,000 attendees.
Denver's attendance is refreshing.  Last year, auto shows' attendance were falling, according to a Reuters article.
Frankfurt's vast auto show, had such big names as Tesla, Nissan, Peugeot, Fiat, Volvo, Jeep, Mitsubishi and Infiniti chose to stay away.  The article said the traditional auto show's attendance drop mirrored an industry in flux, its automakers threatened by emissions regulation, tech giants and the sharing economy.
Nissan Takes Top Honors…
The 2018 Nissan Titan King Cab 5.6 won top honors as the 2018 Rocky Mountain Truck of the Year by the Rocky Mountain Automotive Press (RMAP).  The media association includes automotive journalists throughout the Rocky Mountain region, including Arizona, Colorado, Idaho, Kansas, Nebraska, Utah, Wyoming and Montana.
Other RMAP Denver Auto Show winners include:
The 2018 Toyota Camry XSE, 2018 Rocky Mountain Car of the Year.
The 2018 Dodge Durango SRT was selected as the 2018 Rocky Mountain SUV of the year.