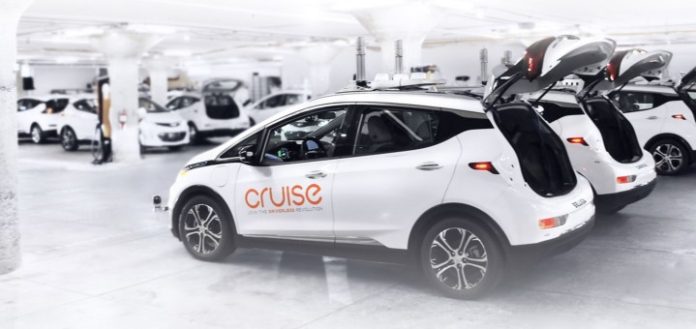 WASHINGTON, Oct 4 (Reuters) – General Motors Co's self-driving unit, Cruise Automation, told California regulators its vehicles were involved in six crashes in the state in September, but said none of automated vehicles were responsible.
The accidents did not result in any injuries or serious damage, according to the GM reports, but did demonstrate the challenges for developers of self-driving cars confronted by crowded urban streets.
A U.S. Senate panel on Wednesday approved legislation that would allow auto makers to greatly expand testing of self-driving cars. Some safety groups have objected to the proposal, saying it gives too much latitude to automakers.
The incidents also demonstrate the difficulties of self-driving cars that obey all traffic laws coexisting with less careful human drivers. In total, GM Cruise vehicles have been involved in 13 crashes reported to California regulators in 2017, while Alphabet Inc's Waymo vehicles have been involved in three crashes.
California state law requires that all crashes involving self-driving vehicles be reported, regardless of severity.
Most of the crashes involved drivers of other vehicles striking the GM cars that were slowing for stop signs, pedestrian or other issues. In one crash, a driver of a Ford Ranger was on his cell phone when he rear-ended a Chevrolet Bolt that was stopped at a red light.
In another instance, the driver of a Chevrolet Bolt noticed an intoxicated cyclist in San Francisco going the wrong direction toward the Bolt. The human driver stopped the Bolt and the cyclist hit the bumper and fell over. The bicyclist pulled on a sensor attached to the vehicle causing minor damage.
In another incident on Sept. 15 in San Francisco, a Dodge Charger in the left-turn lane attempted to illegally pass a Bolt in driverless mode. The GM Cruise employee took control of the vehicle and the Dodge scraped the front sensor and fled the scene without stopping.
"All our incidents this year were caused by the other vehicle," said a Rebecca Mark, spokeswoman for GM Cruise.
On Tuesday, Kyle Vogt, the head of Cruise Automation, highlighted his operation's decision to test vehicles in San Francisco to speed development of the software that will pilot fully self-driving vehicles in the future.
In an August Waymo crash in Palo Alto, a driver took control of the autonomous vehicle after a vehicle ahead of it swerved to avoid an object on the road. The Waymo vehicle's rear bumper scraped the left front bumper of a van in the adjacent lane.