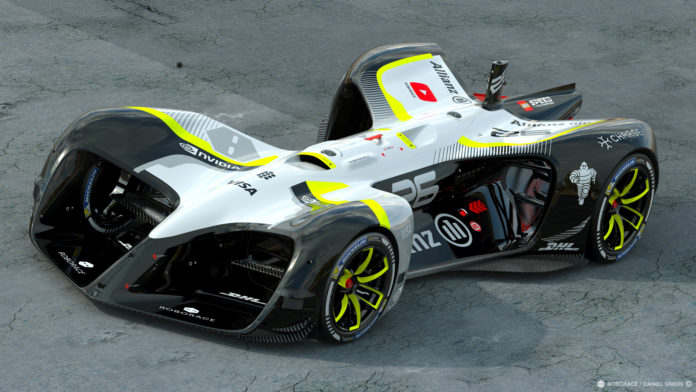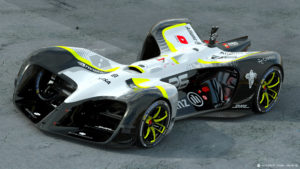 BARCELONA—A new autonomous race car will test self-driving technology in extreme conditions.  Rolled out at the Mobile World Congress, Robocar, has 33 sensors onboard, including GNSS.
"[Robocar] is deep into artificial intelligence. Safety is the most important feature for driverless cars," said Alejandro Agag, Formula E founder and CEO. "In the extreme conditions of racing, you can test these cars [for driverless safety issues].  These robots will have an impact on the future of driverless cars."
The car's manufacturer, United Kingdom-based Roborace, plans to compete against other autonomous vehicles as part of Formula E, an all-electric race series. While he didn't admit it to Inside Unmanned Systems, one Roborace executive hinted that one day Robocar may go head-to-head with a car with a real driver.
Robocar, which can speed up to 200 miles per hour, features a Nvidia Drive PX 2 that use artificial intelligence. Drive PX 2 uses deep learning for 360-degree situational awareness around the car, to determine precisely where the car is and to compute a safe, efficient trajectory, Roborace said. The Drive PX2 brain, capable of as many as 24 trillion artificial intelligence operations per second, is programmed by the racing team's software engineers.
"Robocar is driverless electric and connected.  It's an open platform for intelligence and technology," said Denis Sverdlov, Roborace CEO. "Robocar will help people to accept robots on their own. On the streets, right now people would say no.  However, you have an environment where all the teams learn how to program the cars like machines.  It doesn't matter what type of weather, extreme speed, obstacles, [Robocar] is designed to test all those technologies in extreme conditions."
Sverdlov said that his team's efforts will be in the car's software, not hardware. "All the knowledge used here will be used in robot cars.  This is avoiding collisions, safety, more knowledge about the car," he said. "More people will see it as we take it to larger cities."
Robocar Crashes in Buenos Aires
The first major test of Robocar came in a race in Buenos Aires last year as part of Formula E rounds, Sverdlov said. It was the first time that two autonomous race cars had been on the same track.  "We had the first driverless [racing] lap.  Then we did 12 laps in autonomous mode—and one vehicle crashed," he said. "The important question is—how long will it take before [a robot car] beats human drivers in a race environment?"
The car, designed by Daniel Simon, an automotive futurist who creates vehicles for Hollywood sci-fi blockbusters including Tron Legacy and Oblivion, weighs 975 kilograms and measures 4.8 meters long and 2 meters wide.
The car also uses five LiDARs, two radars, 18 ultrasonic sensors, two optical speed sensors, six artificial intelligence cameras and GNSS positioning.
Robocar has an open A.I. platform with fixed hardware for companies to develop their own driverless software and push the limits in an extreme and safe environment, Roborace said.  Robocar has four motors, a 540 kilowatt battery and is made mostly of carbon fiber.