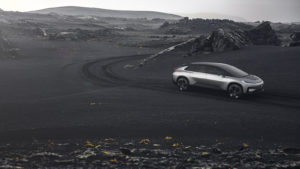 Between the blaring TV sets and drones on display, were auto companies making major autonomous vehicle announcements at CES. In fact, CES featured 138 companies that are in the autonomous vehicle space.                                                            
Nvidia's co-founder and CEO, Jen-Hsun Huang, outlined his company's auto
nomous car efforts in a keynote speech at CES. The company is rolling out a low-power chip set called the Nvidia Drive PX2 AI car computer for self-driving cars.                                                               
Toyota rolled out its Concept-I car, which has a steering wheel, as its future vision of what an autonomous vehicle will look like.  Driving information in the concept car is a new artificial intelligence unit, in the middle of the dashboard, that works with a 2-D avatar that appears on screens around the car.                                                                                                           
The goal of automakers should be developing an autonomous car incapable of causing a crash, said Gill Pratt, who heads Toyota Research Institute in the Silicon Valley, at the company's CES press conference.  "The question to ask [automakers] is how safe is safe enough? No one is close to achieving Level 5 full autonomy," he said.  "The automakers, when they are saying the technology will be ready in the 2020s, they mean Level 4," he said."      
Despite reports of executives leaving and financial woes, Farraday Future rolled out an autonomous electric vehicle that it says accelerates faster than main competitor Tesla's Model S.  The FF91 was rolled out in a live demo, which also showed it can park itself in an empty space.                  
Hyundai Motor Co. is working on autonomous vehicles, not just concept cars, said Mike O'Brien, Hyundai North America.  "We are working on an autonomous vehicle, not a science project," he said. "We were the first independent automaker to exhibit at CES in 2009.  We realize that the line between tech firms and automakers have blurred.                                                       
O'Brien says that although his company's autonomous vehicle has additional test equipment, except for the self-driving components, works like a regular car.  "We wanted to design a car that the average buyer could afford.  We want to democratize autonomous technology," he said.                                                                                                                                           P
art of the 138 autonomous vehicle exhibitors at CES include Tier One manufacturers and their partners.  Such companies as Germany-based Elektrobit are catering to the autonomous vehicle industry by offering software architecture, interfaces, and software modules.             
The company's EB robinos software architecture contains open interfaces capable up to Level 5 fully autonomous driving, said Walter Sullivan, head of Elektrobit's Silicon Valley-based innovation lab. "Companies looking at autonomous vehicle test and validation now have a architecture that standardizes communication mechanisms, memory management, and safety integration," he said.                                                                                                                              
EB robinos provides accurate street map and topographical data for development of predictive driving systems, the company said. Elektrobit says the new software product features a self-learning algorithm to enable implementation of advanced driver assistance systems (ADAS), like predictive headlights, curve speed, warning and traffic-sign assistance, which require accurate and up-to-date positioning information.
Automated Technology Key to Other Industries
While LiDAR has been indispensable to testing autonomous vehicles on the road, the technology grew out of such other markets as aerial mapping and surveying, said Harris Wang, Velodyne strategic markets director.                                                                                                                 
Before LiDAR, aerial mapping was completed using expensive and complex surveying instruments onboard piloted aircraft. However, the advent of unmanned aerial systems (UAVs) have reduced costs and made collection easier, Wang said.                                                                               
Wang says LiDAR will be used in these key markets: automotive, mapping survey, telecom, insurance and automated delivery.  At CES, Velodyne's LiDAR was attached to at least a dozen concept cars and other vehicles.