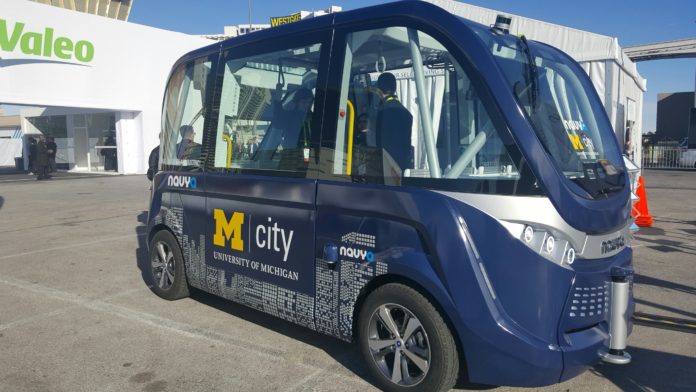 The legalization of self-driving cars in Nevada may become a reality through a draft bill from the Governor's Office of Economic Development. The bill, AB69, calls for an update to existing state traffic laws that would spur driverless vehicle testing—and eventual consumer and commercial use.
Such states as Michigan, with its Mcity testing facilities and other activities, have been champions of autonomous vehicle development. Uber, which was having regulatory issues in California, recently announced it would test vehicles in Arizona.
Nevada is moving in the right direction by anticipating fully automated vehicles operating without humans, said Marc Scribner, Competitive Enterprise Institute senior fellow. "Given that Nevada was the first state in 2012 to explicitly recognize the legality of automated vehicles, and authorize their operation on state roads, the legislature and regulators must now closely follow technological innovation and policy evolution to ensure state statutes and regulations don't unnecessarily restrict automated vehicles," he said. "In short, once you enact an automated vehicle law, you can't put the genie back in the bottle."
It remains to be seen how states are interacting with federal autonomous vehicle guidelines. The U.S. Transportation Department (DOT) late last year released its Federal Automated Vehicle Policy, detailing safety and regulatory requirements for testing and implementing self-driving technology.
The much-anticipated federal policy uses a 15-point safety assessment to set expectations for autonomous vehicle researchers and manufacturers. The assessment asks automakers to opt-in to data sharing when testing and evaluating self-driving cars.
Group Pushing for a 50-year Ban on Self-Driving Cars in New York

While several states are advocating the testing and use of autonomous vehicles on their roads, one organization wants to ban self-driving cars for 50 years. According to published reports, the Upstate Transportation Association, citing the potential loss of thousands of jobs, is asking the New York state legislature for the ban.
Among other issues, Scribner believes that the Upstate Transportation Association is wrong in calling for the 50-year ban. "I see little chance of these paranoid ramblings becoming law. The widely mocked Upstate Transportation Association not only fails to understand the role of innovation in the economy, their expectation of fully autonomous vehicles replacing human drivers in just a few years is laughably optimistic," he said. "Most experts don't anticipate the release of these vehicles for at least a decade and for full deployment to take decades more."
Many local transportation associations are lobbying against such ridesharing companies as Uber and Lyft, which are developing driverless cars. The turmoil around fully self-driving vehicles, or Level 5, that Scribner said the Upstate Transportation Association is confused about, is a main source of contention industrywide.
At last month's International CES in Las Vegas, formerly known as the Consumer Electronics Show, at least one major automaker said the goal should be developing an autonomous car incapable of causing a crash.
"The question to ask [automakers] is how safe is safe enough? No one is close to achieving Level 5 full autonomy," said Gill Pratt, who heads Toyota Research Institute in the Silicon Valley, at a company press conference. "The automakers, when they are saying the technology will be ready in the 2020s, they mean Level 4."