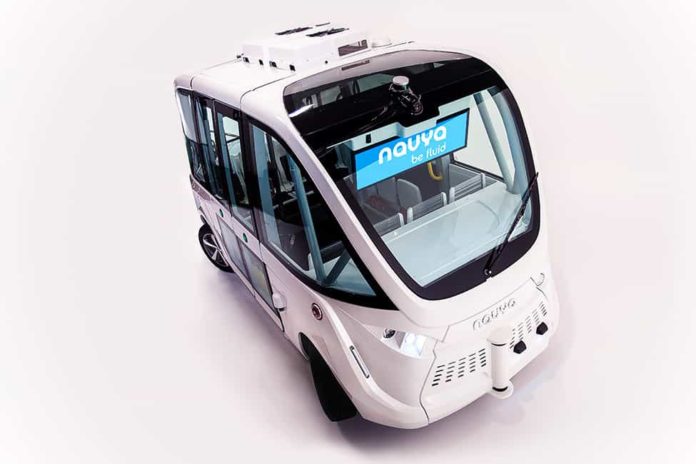 Navy ARMA's driverless bus will begin shuttling passengers along a half-mile route in downtown Las Vegas. 
The bus has driven Las Vegas's streets before — but this time, it will navigate along a route filled with other traffic. 
The future is headed to Las Vegas in the form of a driverless, electric bus that will begin shuttling passengers along a half-mile downtown route beginning Wednesday morning at 10 a.m. The autonomous buses are the brainchild of French autonomous vehicle company Navy ARMA, which is teaming up with AAA to gauge passenger enthusiasm for the product.
It isn't the first time the driverless shuttle has hit Las Vegas's streets. Back in January, the bus took a ten-day test drive along an empty route that had been cordoned off from the rest of traffic. Now, the bus will intermix with regular traffic, communicating with a series of wireless sensors installed into traffic signals along its journey.
The vehicle was designed without steering wheels or breaks, and relies on GPS, a combination of cameras, and light-detecting senors in order to navigate the busy streets. AAA hopes that as many as 250,000 riders will board the bus over the course of the next year. In return, the company will donate $1 per every passenger who rides the shuttle to those affected by the  mass shooting in Las Vegas that took place in October.