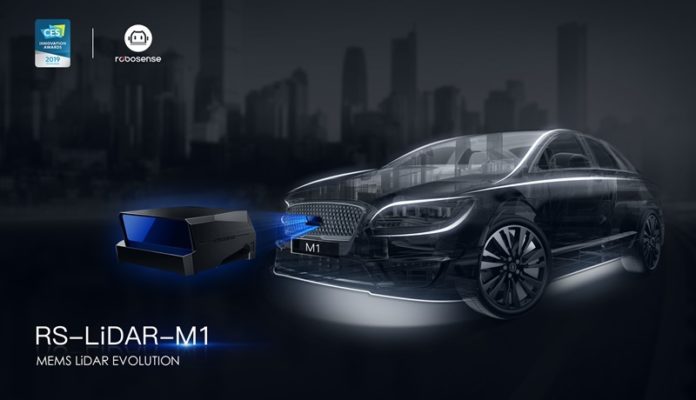 LAS VEGAS—An increasing number of LiDAR (light imaging detection and ranging) companies at CES this year touted higher resolution, smaller size and less cost for in their new offerings.
Until recently, the adoption of LiDAR, a key component to rolling out autonomous vehicles, has been hampered by publicized poor performance and high cost, one company said.
The company, Innoviz, which won the 2019 CES "Best of Innovation" award for its solid-state LiDAR, has doubled in personnel in the past year, said Omer Keilaf, CEO and co-founder. "Our LiDAR is in design production, with a design win with BMW. We've also announced a partnership with Harman," he said. "We doubled in size and are at the 200-employee mark with offices in Santa Clara (California), Japan, China and Munich."
BMW will deploy the company's InnovizOne LiDAR as part of its autonomous vehicle program beginning in 2021, the company said. The company has received $82 million in venture capital funding. The company's investors include Aptiv (Delphi Automotive), Magna International, Samsung Catalyst, SoftBank Ventures Korea, 360 Capital Partners, Glory Ventures, Naver and others.
Another company, China-based RoboSense, revealed an upgraded version of their MEMS solid-state LiDAR, the RS-LiDAR-M1, at CES and Pepcom's Digital Experience. The company says the new LiDAR can support Level 5 automated driving.
RoboSense, also a CES 2019 Innovation award winner, said the product's measurement range was based on 905nm LiDAR, with a detection distance to 200 meters to recognize such small objects as railings and fences.
Like a few other LiDAR companies, RoboSense has added additional offices and employees. The company, which has Alibaba and others as investors, had a busy year with several OEMs and Tier 1 customers, said Jimmy Jin, RoboSense overseas business manager. "We have offices in Silicon Valley and Germany. We are following our target roadmaps," he said. "We've updated our MEMS LiDAR this year for CES with measurement range to 200 meters."
The 800-pound gorilla in the room of LiDAR, Velodyne, also rolled out a couple of products at CES and Pepcom's Digital Experience. These include the company's new short-range sensor and Advance Driver Assistance Systems (ADAS).
The LiDAR sensor, called VelaDome, offers pedestrian, cyclist and blind-spot detection, the company said. The new Vella software's works with the directional-view Velarray LiDAR sensor for ADAS.
The company, founded by David Hall in 1983 as a high-performance audio company, participated in the now-legendary DARPA (Defense Advanced Research Projects Agency) Challenge in 2005.