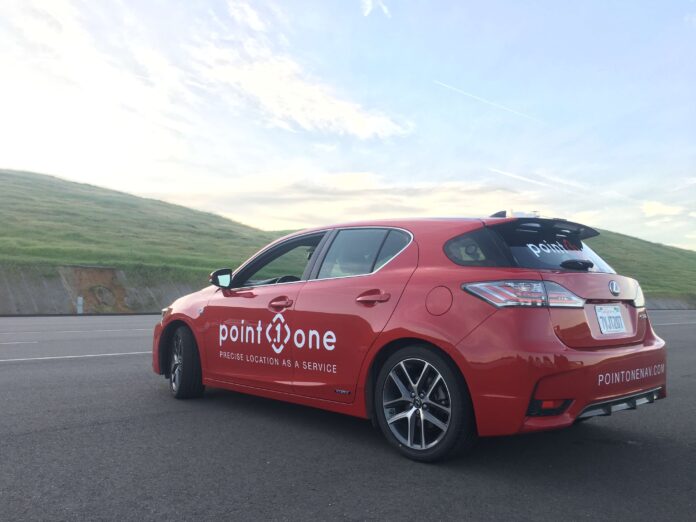 LAS VEGAS—Septentrio and Point One Navigation decided to get away from the crowded halls of CES to demonstrate new autonomous vehicle technology near the University of Nevada, Las Vegas.
Point One, founded by Cornell engineering grads who participated in the DARPA Grand Challenge a decade earlier, specializes in precise location as a service through its Polaris Cloud correction network that combines GPS with computer-vision localization, the company said.
"While camera sensors can get you Level 2 autonomous driving about 95 percent of the time, it's the last 5 percent that is most dangerous.  With high precision location, we can have virtual lanes in the computer's memory and have something as a primary or secondary check," said Aaron Nathan, Point One CEO and co-founder.  "When you are moving into Level 5, the strongest signal you have comes from knowing where you are. Location helps determine if a camera pixel or LIDAR return is really a sign, person, or cyclist." 
In open areas, a Septentrio real-time kinematic (RTK) receiver can be used directly with Polaris Cloud to provide centimeter-level accuracy, the company said. In urban environments, Point One's FusionEngine software integrates cameras and additional sensors for better levels of precision, even without satellite signals, the company said.
The partnership is a good one with Point One because of the company's knowledge of global navigation satellite system (GNSS) integration, said Neil Vancans, Septentrio's vice president of global sales.
Another need for Point One's system is the lack of HD maps for autonomous vehicles. "It hasn't trickled down to Level 2. It's not scalable," Nathan said. "It's tough getting a 2D map, much less 3D. There is a big gap—and that's where we come in. GPS is a bunch of points in space, you can use more sensors to bring in more strength. You can build a map of what the world looks like."
In other Septentrio news, the company rolled out its Mosaic GNSS module that works with robotics and autonomous systems. Available this year, the module is a multi-band, multi-constellation receiver in a low-power surface-mount module, the company said.
School Buses Are Big Business for Synovia…
In other CES news, Indianapolis-based Synovia Solutions displayed its school bus tracking technology at the Showstoppers conference. The system is installed in school buses, while parents are given an app to download to find out when a bus is coming—or not.
"We've developed more capability for the product. We are in 912 school districts from New England to south Houston," said Bryan Mitchell, Synovia Solutions content marketing manager. "The bus is geofenced and a push notification is sent to parents and allows them to send kids out to wait for the bus. It saves time for the school districts as they don't have to field calls from angry parents wondering where the bus is."