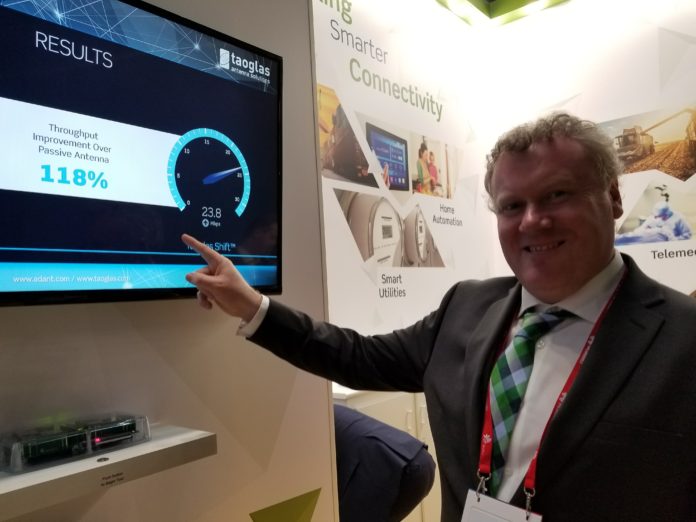 BARCELONA—Automotive, unmanned aerial vehicle markets (UAV) and IoT location markets all need antennas that work well in high-speed conditions.  At the recent Mobile World Congress, Taoglas and Adant launched the Taoglas Shift, an antenna system that extends coverage and increases throughput, the companies said.
Adant is providing the beam-steering technology used in the new antenna system.  "[Adant] is building the firmware-developed technology behind the algorythms.  Instead of trying to do it ourselves in house, they focus on it," said Ronan Quinlan, Taoglas co-CEO and founder.  "This demonstration is the coolest thing we've done in a while. This demo is for IoT applications, and perhaps in vehicles. We also plan to integrate the technology with one of the module companies."
The new antenna searches for the best signal and has a combined antenna/LTE module. The antenna will be marketed to indoor and outdoor segments that include retail, agriculture, transportation and others, the company said.
Rolled out at CES, and displayed again at MWC, Taoglas said its Terrablast patch antennas are 30 percent lighter than their ceramic counterparts.  The new antenna line, made out of glass-reinforced epoxy laminate, is marketed to automotive and unmanned aerial vehicle (UAV) markets.
"We are launching more products around that material. It's robust, even in automotive environments," said Landon Garner, Taoglas chief marketing officer.
Taoglas launched two new e-commerce marketplaces at MWC that allow companies deploying wireless and IoT products to build and order customized antennas, cable and connectors, the company said.  The main goal of the marketplace is to have all the need products delivered within 48 hours.
The Antenna Builder feature allows users to select from more than 20 application categories to choose an antenna type, combination, mounting requirements and frequency combination, the company said.