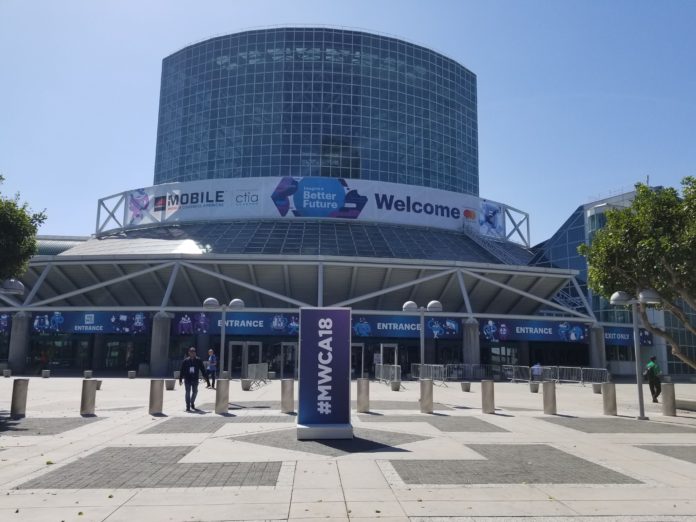 LOS ANGELES—While the recent Mobile World Congress Americas here had at least two dozen location industry companies exhibiting, few product announcements and partnerships were announced, leading some industry observers to question its future.
However, one of the older location companies, Comtech, believes the market for location-enabled IoT devices will be massive in the next few years.  "Potentially, the sheer numbers of devices in the next 3-5 years could be in the billions.  That means having location-enabled IoT to compliment the big data technology coming in," said Frederic Servais, Comtech vice president, location product management.
The company was marketing its IoT Location Platform (ILP) and Trusted OpenStreetMaps (TOSM) at MWCA.  "Our focus is location specific to IoT devices and whatever technology is available to include cellular, Wi-Fi, assisted GPS and Bluetooth," Servais said.  "We are improving coverage with high definition indoor positioning with 5-10-meter accuracy."
In addition, the company is offering its TOSM to bring in other data points for turn-by-turn navigation systems.  The company is "cleaning, enhancing and integrating third-party data into OpenStreetMaps.  "We are insulating the systems from random misinformation coming in.  It's also at a lower cost point than other companies," Servais said.  "The nature of crowdsourcing is great, but then some things might happen.  We can normalize the data if one users says a sign is 35 mph and another says 55 mph."
Other exhibiting MWCA companies like Korea Telecom are counting on 5G technology's low-latency technology to greatly improve connected and autonomous vehicles.  "We were testing autonomous vehicles during the Winter Olympics [in Pyeongchang]," said Jiyoung Lee, Korea Telecom senior public relations manager.
Korea Telecom rolled out its 5GaVP (5G as a Vehicle Platform) this summer that will demonstrate 5G technology on a self-driving car.
Wireless Carriers Still Proponents of Location…
In a pre-conference session, the GSMA Intelligence Americas Summit, Jason Koch, SVP of Product Strategy at Verizon Connect, said that the company focused early on telematics, buying several companies to form an entity called Verizon Telematics.
"The name Verizon Telematics didn't capture the brand that included 4,000 employees," Koch said of the company's decision to rename its telematics entity Verizon Connect.  "We're super-focused on solving customer's problems, including teenager safety through Verizon Hum—and if they get into accidents, having automatic crash notification [and other features]."
Koch said that Verizon does not want to build cars or trucks, but sometimes automakers want to become software companies.  "We've spent a lot of time to establish a business case.  Sometimes going with a partner is not always the best long-term decision," he said.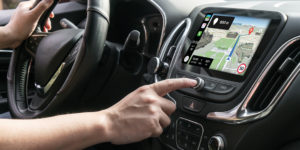 Sygic Part of Apple Family…
In one of the few location announcements at MWCA, Sygic said its GPS navigation with offline maps are now available on Apple CarPlay, with accessibility on the new iOS 12 release.
When a smartphone is paired to an Apple CarPlay-enabled vehicle, control of the Sygic app is removed from the smartphone, the company said. The app is automatically projected to the vehicle touchscreen and linked to voice controls, keeping drivers' eyes on the road and hands on the wheel.
"We place a lot of emphasis on safety features—lane guidance, speed limit.  Our SDL supports voice commands and in-dash screens," said Miro Remecky, Sygic North America chief commercial officer.
The company previously announced its Sygic Maps that allows users to plan and share routes on their home computers and then send to their Sygic GPS Navigation App for mobile use.
Some safety features of the Sygic GPS Navigation app, now available on Apple CarPlay, include: offline maps; Head-up Display, advanced warning of speed limit changes; predictive routing that forecasts traffic congestion; a lane assistant that helps drivers more safely switch lanes; voice navigation and real-time traffic information updated every two minutes.
The company said that another cool integration feature on Apple CarPlay is that drivers can automatically sync their personalized Sygic navigation preferences and maps to any Apple CarPlay-enabled vehicle for company vehicles, car rentals and car sharing.
In other MWCA news:
Both TomTom and HERE, the two traditional digital mapping rivals, didn't exhibit at MWCA. Both companies decided to speak and exhibit at conferences either the same week, or before, in San Francisco, where the MWCA was held last year.  Was MWCA's focus on entertainment a drawback for location companies?
While the attendee numbers and exhibitors were around the same as last year's totals, MWCA, now in Los Angeles, had a feeling as if it were marching in place, despite a few companies saying there was a "good attitude" at the show. Still, others believe that the conference is in no way as important, or as large, as the old CTIA conference that was typically held in March.