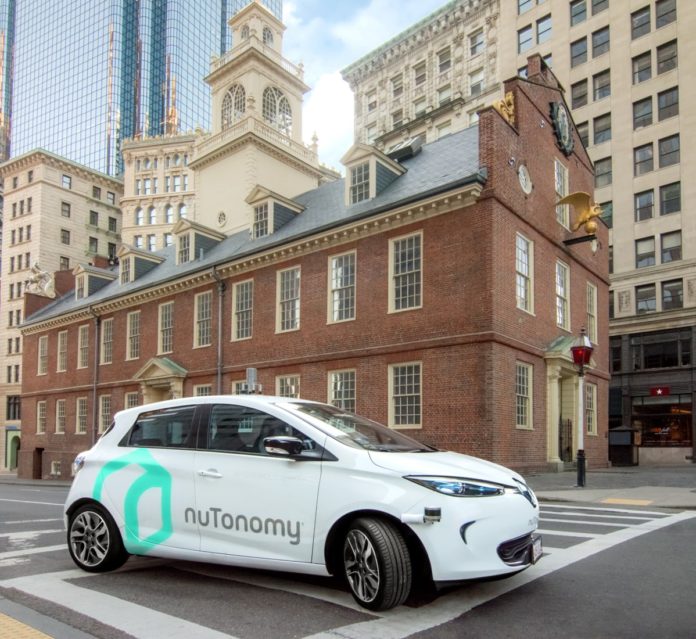 Over the past half-decade, countless startups have appeared on the landscape with the hope of disrupting the more-than-century-old automotive industry with automated driving. Increasingly, those small players are getting gobbled up by the incumbents in the industry. The latest is Boston-based nuTonomy, which is joining Delphi Automotive in a $450 million acquisition.
Delphi had previously announced that it would split itself into two separate companies: Delphi Technologies, which will consist of the powertrain systems business unit, and the automated driving and electrical architecture business, which will operate under the name Aptiv. NuTonomy, along with previous Delphi acquisitions such as Ottomatika, will live under the Aptiv banner.
Like nuTonomy, Pittsburgh-based Ottomatika has been developing an automated driving software solution, and the two companies might seem to overlap. In fact, they do. However, Delphi's chief technical officer, Glen De Vos, explained that while it might eventually merge parts of nuTonomy and Ottomatika where it makes sense, for the foreseeable future, the two software platforms will continue to be developed in parallel.
In most business combinations, this approach would be completely anathema and seen by the principals as an opportunity to cut in the search for synergies. However, in this context, it actually makes some sense, at least in the near term. For safety reasons ― without a human driver to take over in the event that there is a system failure or a software bug ― automated vehicles are going to require a degree of redundancy not previously seen in the auto industry.
From a safety analysis perspective, these redundant computer platforms should have different architectures to ensure that errors in the primary system aren't replicated in the backup and missed. Thus, having two independently developed automated driving platforms from nuTonomy and Ottomatika could actually provide a level of safety not previously seen. Of course, this adds some complexity for the cross-checking and decision algorithms, but that will get worked out.
When asked what else nuTonomy brings to the table for Delphi, de Vos highlighted the work the company has been doing on the services side, which will be crucial to early success in the automated driving business because most of these vehicles will be used for commercial mobility applications long before they are sold to consumers.
Karl Iagnemma, nuTonomy's CEO, called out the numerous academic papers on fleet management authored by his co-founder Emilio Frazzoli. Efficient deployment of automated vehicles and high-definition mapping of service areas represent part of nuTonomy's appeal to Delphi, adding to the connectivity and data-handling capabilities that Delphi has developed internally and through investments in companies like Otonomo. Delphi also manufactures many of the sensors and electronics used in these systems and has investments in three lidar developers, Quanergy, Innoviz and LedderTech.
The partnerships built by nuTonomy, including relationships with Lyft and France's PSA Group, will remain in place, and the combined company hopes to leverage these and others to commercialize automated driving. Delphi and nuTonomy both have fleets of automated taxis operating in a section of Singapore as part of a pilot program sponsored by the Land Transport Authority there.
Over the coming months, Delphi and nuTonomy plan to continue expanding their engineering and research staffs as they work to move beyond the pilot toward a full commercial deployment in the 2019-20 time frame. Delphi/Aptiv will continue to work with partners such as BMW on systems integration aspects of the company's in-house solutions.
However, de Vos and Iagnemma emphasized that the benefit to their companies would come from the scale provided by a turnkey solution. By minimizing the customization for individual customers, they hope to provide a more reliable, robust and affordable solution.