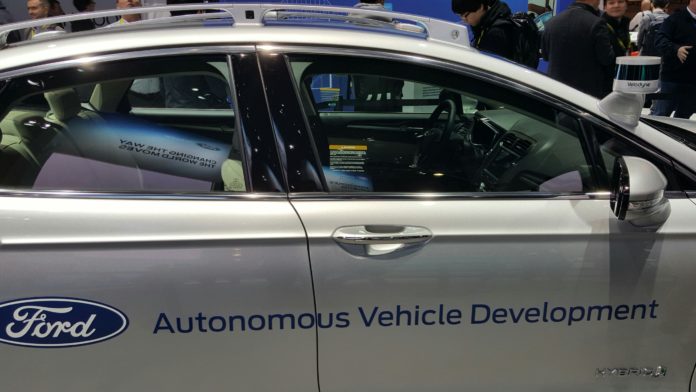 Ford Motor has struck a partnership with Lyft to develop and test self-driving vehicles on the ride-hailing company's growing network of passengers.
Ford, which announced the partnership in a blog post early Wednesday, said that the goal is to put self-driving vehicles onto Lyft's ride-hailing network. Just don't expect to see self-driving Ford vehicles shuttling around Lyft customers anytime soon.
The initial aim is to combine the strengths of each company. For Ford, that's large-scale manufacturing and development of autonomous vehicles technology, which its partner Argo AI is currently working on. Lyft, meanwhile, has a vast network of customers across the United States that has given the startup greater insight in how people move within cities. Both companies have fleet management and Big Data experience, according to Ford's blog post written by Sherif Marakby, Ford Vice President of autonomous vehicles and electrification.
Ford, which is now being led by
CEO Jim Hackett
, hopes to learn how to create self-driving cars that can easily connect with a platform like Lyft's so they can be quickly dispatched to pick up customers. The automaker also wants to use Lyft's data (and its own) to determine which cities would be worth launching a self-driving vehicle service and what kind of infrastructure would be needed to properly service and maintain a fleet of self-driving vehicles.
Get Data Sheet, Fortune's technology newsletter.
Lyft is taking a more collaborative approach to self-driving cars, unlike rival Uber. Earlier this year, Lyft launched an open platform designed to give automakers and tech companies working on self-driving cars access to its ride-sharing network of nearly 1 million rides per day.
And even before the open platform began, Lyft has been locking in partnerships. The company landed its first major partnership in January 2016 with GM, which like Ford also wants to eventually deploy self-driving cars with Lyft's network.
Lyft has made at least three other partnerships in 2017, including startups Drive.ai and nuTonomy, and Waymo, the Google self-driving car project that spun out to become a business under Alphabet (googl, +1.02%).