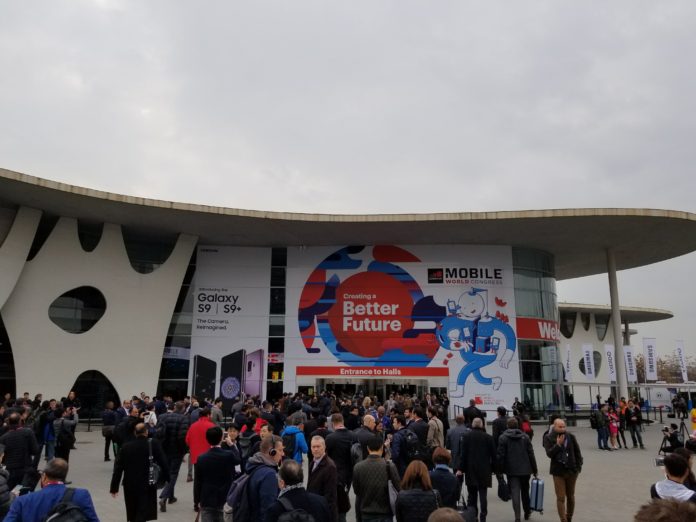 BARCELONA—The European Global Navigation Satellite Systems Agency (GSA) showcased a range of applications for drones and unmanned aerial vehicles (UAVs) through several government-funded programs at the Mobile World Congress here.
One of the projects tests mission-critical situations through photo surveillance, live unmanned aerial vehicle (UAV) images and crisis management, said Harald Skinnemoen, Ansur founder and CEO. The tests supported DJI drones, which controlled the camera. 
"It gives, say a fire department, quicker interaction with a drone pilot to respond quicker to a fire or other emergency," Skinnemoen said.
Another project, called GAUSS, measures position, velocity, and precise time (PVT) for individual drones to enhance navigation performance and maneuverability.
The agency said that more than 30 cellular phones, including Apple's iPhone, now use the Galileo satellite navigation system.  GSA also said companies can got its website to get better accuracy for their app development, including those for location-based services.
GNSS Helps Harvest Crops…
In a panel on industrial IoT, one panel member is using GNSS to help farmers plant and harvest crops worldwide.
"If you ate food today, it was probably harvested by farmers using our equipment. People think of us as an equipment company, but we have GPS precision navigation, touch-screen displays, cloud-based units using 3G or 4G, and 150,000 active [systems] in 60 countries," said John Stone, John Deere, senior vice president, intelligent solutions group.
With narrowband IoT coming, John Deere will have the ability to have an in-field static sensor that can monitor a single plant, Stone said. "This means the amount of water and nutrients needed. The telematics we have allows us to do that," he said.
GNSS Coming for Mass Market…
A few days before MWC, u-blox rolled out its F9 technology platform that is tailored for mass market industrial and automotive applications. The platform features GNSS technology paired with dead reckoning, high-precision algorithms and several correction data services, the company said.
"We want to bring meter-level GNSS to the mass market for automotive, UAV, robotic and other applications. This includes heavy machine and other industrial applications," said Florian Bousquet, u-blox market development manager, who said the platform will be out within a month.
Sygic Partners with Ford to Provide Driving Assistant
Slovak Republic-based Sygic rolled out its Driving Assistant feature for Ford vehicles' Sync 3 service. Driving Assistant, which is voice-controlled, allows drivers to ask about nearby rest-stops, restaurants, hotels, and traffic jams along route.
"It's a great partnership with Ford, not competitive, but supplemental. Driving Assistant allows users to connect their smartphones to get information and technical [data]," said Stefan Janciga, Sygic vice president, automotive business unit.
Driving Assistant provides users access to GPS mapping tools, real-time traffic data, parking advice and information about gas prices. "Drivers can find gas stations to fill up, determine low-tire pressure by pressing the Sygic button," said Francisc Juras, Sygic automotive product manager. 
Driving Assistant, which uses TomTom mapping data, links with Ford Sync 3 AppLink vehicle touchscreen through the automaker's Smart Device Link (SDL) technology.  
Comtech Trying to Get Location Message Out…
More than 60 percent of mobile operators are using Comtech services, including the company's indoor/outdoor positioning system, in their network deployments, said Jay Whitehurst, Comtech president, enterprise technologies.  "Seemless indoor and outdoor is an amazing area of location.  We have 80 mobile operators for location [services]," he said. 
The system provides meter-level positioning accuracy when GPS or high-accuracy network positioning are not available. 
Whitehurst says the international market is growing rapidly for Comtech. "We have grown at double-digit rates and we anticipate growing more this year," Whitehurst said. "The Middle East has been our highest growing area."
Whitehurst said Comtech had several expressed themes they worked on at MWC: IoT, 5G and a path toward migrating the company's messaging and location services to a microservices architecture. "The moves to Edge computing is happening where everything is virtualized. You do mobile upgrades, then boom, you are there," he said.
Edge computing was a big buzz phrase this year at MWC, where all of data processing is delivered in, basically, edge locations. It is an intermediate tier between cloud and traditional datacenters. 
Comtech's location service works with a variety of tracking technology, include low-powered, wide-area networks.  "They're fulfilling a need right now. When IoT matures, we'll see what happens, said said Sameer Vuyyuru, Comtech senior vice president and general manager. "It's like what happened to WiMAX when [long term evolution] LTE came along. Sometimes there is no common core architecture, just a dumb pipe."
Overall, Comtech is trying to get the message out that device manufacturers, enabling technologies, connectivity and technology providers and others need to think about locations when designing their products. "These companies do not think about location first, or not at all. When they think about location, it's because they need a specific location capability such as asset tracking," said Brian Salisbury, Comtech vice president, product management. "Sometimes they need to think if that device or sensor is going to stay in the same place or deploy somewhere. Sometimes they are concerned about GPS' power consumption or added cost."
Salisbury said that while a sensor may be able to capture a data time stamp, it is a lot less valuable without location. "With location, that data is a lot more valuable. Companies can look at the way they use the signals and devices to communicate," he said. "That position can be captured in the cloud for every piece of data time and location. Later on, they can slice-and-dice the data."